Inför Världstoalettdagen bjuder vi in till en lärarkväll på Baltic Sea Science Center på Skansen.
Måndagen den 15 november kl 17.30-19.00 ordnar vi tillsammans med Sveriges lantbruksuniversitet (SLU) och Stockholm Vatten och Avfall en fortbildning för dig som är lärare på högstadiet eller gymnasiet.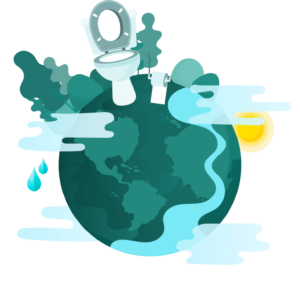 From farm to fork and fork to farm – how toilets are a part of this cycle
Jenna Senecal och Anastasija Vasiljev från Sveriges lantbruksuniversitet berättar om sin forskning på hur näringsämnen från våra toaletter kan återcirkuleras till matproduktionen ute på åkrarna.
Framtidens avloppsrening
Stockholm Vatten och Avfall berättar om hur samhället med modern teknik i reningsverk i Stockholm ska minska läckage av ämnen från våra avlopp ut till Östersjön.
Fyll på dina kunskaper och få tips på hur du kan lyfta in Östersjön och övergödning i undervisningen. Vi startar kvällen i akvariehallen med enklare mat och dryck.
Fortbildningen är kostnadsfri.
OBS! Anmäl dig senast den 11 november till bssc@skansen.se.
Varmt välkommen!